KLOUD x Singapore Business Federation Strategic Partnership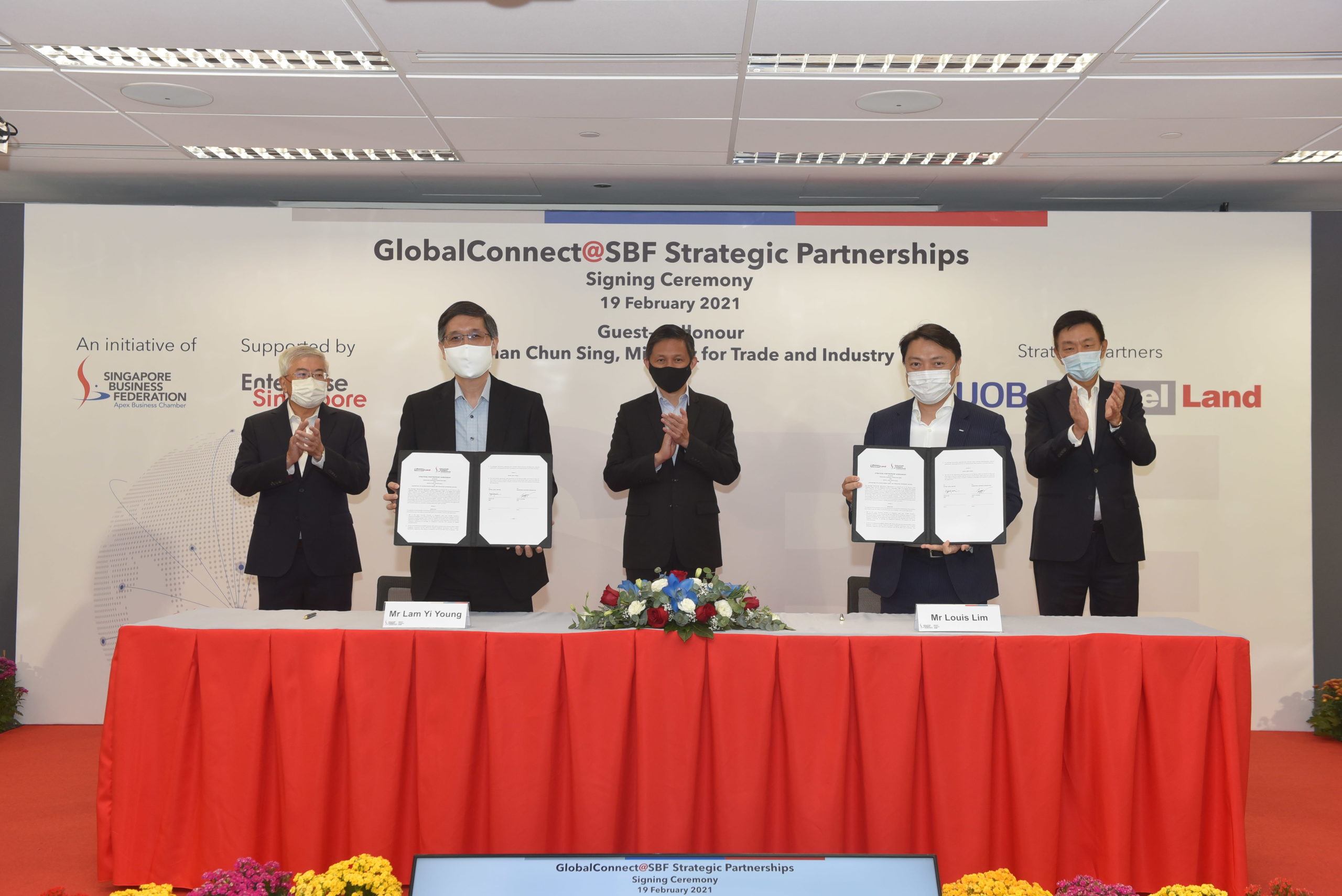 KLOUD is proud to share that we are a strategic partner with the Singapore Business Federation for their GlobalConnect@SBF initiative! We look forward to supporting more Singapore businesses as they seek to expand overseas!
Singapore's Minister for Trade and Industry, Mr Chan Chun Sing, was the Guest-of-Honour at the signing ceremony last Friday, 19 Feb 2021. The agreement was signed between Mr Louis Lim, CEO of Keppel Land, and Mr Lam Yi Young, CEO of SBF, and witnessed by Mr Loh Chin Hua, CEO of Keppel Corporation and Chairman of Keppel Land. Under the strategic partnership, SBF members and Singapore companies referred by GlobalConnect@SBF will be able to access KLOUD's existing serviced co-offices, which are conveniently located in prime business districts, to tap on services to grow their local presence in the markets.
As part of the partnership, SBF has established two overseas offices – Singapore Enterprise Centre@Jakarta and Singapore Enterprise Centre@Ho Chi Minh City, in KLOUD serviced co-offices in Saigon Centre, Ho Chi Minh City and International Financial Centre Jakarta.
Mr Ben Lee, Chief Operating Officer, Keppel Land, said, "We are glad to partner SBF to offer flexible space solutions and support the growth of Singapore companies as they expand their presence overseas. As tenants look for more flexible lease tenures and adaptable spaces amid COVID-19, Keppel Land is well-positioned to offer such core-and-flex space solutions under our KLOUD brand.
KLOUD's variety of workspaces cater to users with different needs. All users have access to KLOUD's community events and amenities, which support various meeting or event needs. Beyond just supporting users with physical space, KLOUD offers myriad partnerships and services to create a better work experience.
KLOUD's serviced co-offices are conveniently located in Keppel Bay Tower in Singapore, Saigon Centre in Ho Chi Minh City, International Financial Centre Jakarta and Junction City Tower in Yangon.
To read more, visit https://www.kepcorp.com/en/media/media-releases-sgx-filings/keppel-land-enters-into-strategic-partnership-with-the-singapore-business-federation/